DEEP INTERDISCIPLINARITY
The Center Leo Apostel (CLEA) is a transdisciplinary, interfaculty research center at the Vrije Universiteit Brussel (VUB). CLEA's mission is to bridge the different scientific, social and cultural disciplines. It was founded in 1995 under the impulse of the Belgian philosopher Leo Apostel (1925-1995). He formulated the goal of CLEA as the integration of the different disciplines into a coherent worldview, so as to counteract the current fragmentation into ever more specialized approaches. Next to worldviews, our research addresses fundamental interdisciplinary issues, including complexity, systems, evolution, quantum entanglement, cognition, artscience and well-being.
We call our research philosophy "thinking beyond boundaries". Thanks to this philosophy, CLEA has attracted and trained a large number of talented researchers from the humanities, social sciences, physical sciences and engineering, representing countries from across the globe. CLEA is now internationally recognized as a unique, transdisciplinary research center with a steady output of high-level, innovative publications.
Next to our research, we offer diverse educational programs and activities, including an interdisciplinary PhD, the School of Thinking postgraduate, courses, and public seminars and lecture series.
Upcoming events
Multiple agents weave the fabric of temporality in a data-driven world, at the same time orchestrating futures and visions of (un)certainty and sparking promises to contain what is to come. The possibilities of modeling the world with algorithmic means are changing our time and space perceptions. How do phenomena come into being? How does temporality operate within complex infrastructures, entangling humans and more-than-humans in a techno scientific, posthuman world of many worlds? In this talk, Anne Dippel will address the above questions. FOR MORE INFO > PLEASE CLICK TITLE

This seminar will serve as the opening episode in a series of conversations aimed at actualising the idea of an unconditional, universal basic income. This idea has been advanced by so many prominent thinkers and rejected on so many different grounds—arguably, mostly psychological and metaphysical—that it may make little sense to simply debate it with every conceivable argument for and against. Instead, this seminar will serve as a conversation adopting the vantage point of the year 2039, assuming that the basic income is already a fact. Participants will be invited to contribute their elaborations and insights, focusing on how its implementation occurred and why it was possible. FOR MORE INFO > PLEASE CLICK TITLE
News
CLEA is pleased to announce the N2 conference celebrating the 100th anniversary of the discovery of the Noosphere.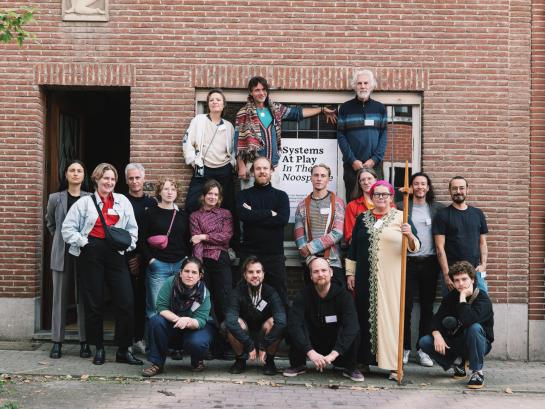 CLEA crew and fellow players at the symposium 'Systems At Play: In the Noosphere' (October 2023) in front of the CLEA house