Today's debt-based « system » and governance organizing society and economy, has succeeded great things, but also seriously damaging ecology, climate, people, and has undermined itself and proven based on unsustainable paradigms. 
A new system is « expected », necessary and urgent. This is the goal of our work. No surprise, it is based on systems thinking and working. A new philosophy, a new model, a strong methodology based on 10 new tools for value assessment, building purpose, create alliances, etc. and experience of a dozen programs on live projects have reached us a lot on how to build these next generation businesses and leadership models.
This exposé will be fully interactive.
Zoom Meeting Link: https://zoom.us/j/98682194975?pwd=M1kySGt5bU42bGJreTRmM25hRkxmQT09
Meeting ID: 986 8219 4975
Passcode: 7pG8g1
Facebook event: https://fb.me/e/UPjJWrhc
Bio: 
Professor Michel de Kemmeter, professor at VUB Brussels School of Governance is one of those intellectuals who are the front runners of a transition in economy and methodologies, bringing new paradigms to corporations and governments.
Multi-author of books and «Wise Papers», investor and speaker, he initiated Club of Brussels, school of new economic thinking. It is an international network of 45 direct major contributors, from around the world - not only to think about the new economic models based on systemic use of resources, but also to implement economic transition in living lab "Extrapreneurs". His team trained leaders and entrepreneurs in 15 countries, and coached concrete systemic multi-solution projects gathered in an open source «Solution Bank».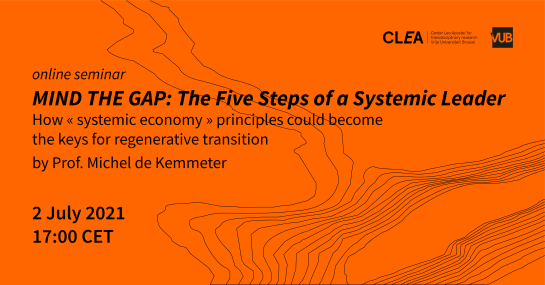 ---
More about CLEA seminars here.